12 Bar Box - Malt Nut Melody
This delightful quartet of peanut, sesame, malt and vanilla is a melody that's familiar yet new and invigorating.
This box contains 12 bars of Malt Nut Melody.
Ingredients & Nutrition Facts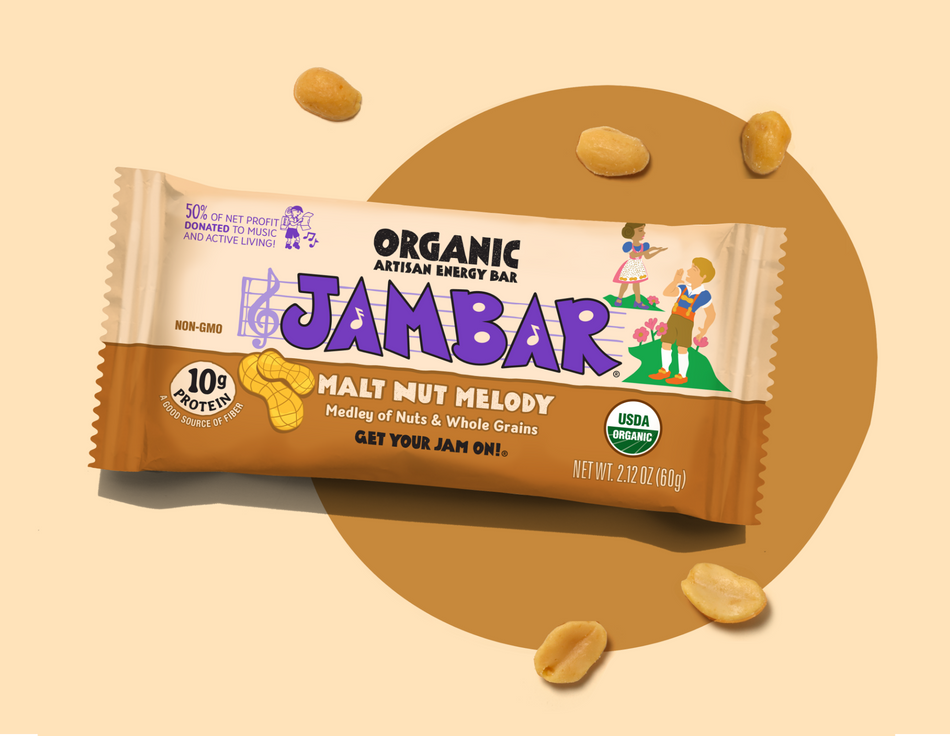 Excellent flavor, my favorite of the 4 flavors too!
These are my go-to before morning runs. I have one of these with a banana. If you love peanut butter, then you will really like these. They are very satisfying and tide me over during busy days!
Just right
My new favorite! Love the balance of flavor and textures in Malt Nut Melody. For me, this is the most satisfying of the four, but I like variety so I got the 12-bar variety pack after finishing the 4-pack sampler. Jambars are ideal for me when I travel: frequently I don't want to (or have time to) sit down for a meal, and a Jambar is exactly what I need. My previous favorite bars made me feel like I was eating birdseed - I think you know the kind. And it gives me joy to know that you're supporting music education! I've attended several concerts at the California Jazz Conservatory that were sponsored by Jambar, and I'll be going back for more.
OK, but...
Overall good product, but it didn't have the strong malt flavor I had hoped it would have. Probably needs more malt and less of some other ingredients.
YUM
I am a cyclist and I always carry bars with me. I happened upon Jambar at a sandwhich shop and fell in love! This bar is not too sweet and the consistency is perfect! This is my new Jam!!!!!
Can't get enough
The last Marin Century bike ride is where I first came into contact with your product. Now it's my go to everything. From missing lunch, before and after a long bike ride and everything I can make an excuse to munch down on either the chocolate or malt bar. I make sure that I order a constant supply, for when I need a tasty pick me up. Well done Jambar.
Greg